This is the story of how a chance meeting can lead to a meaningful partnership. In 2014 Michelle Savard, a PhD student at Concordia University, with her daughter Soulaine, were volunteering in Pader Uganda. They got lost on their way downtown and by chance met one of the teachers of Paipir Primary School who invited them to meet the Head Teacher. They were inspired by the deep dedication of the teachers to their students, especially their special needs students. Paipir is one of two schools in all of Northern Uganda that serves special needs children.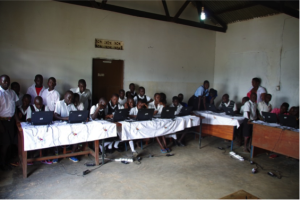 Soon after returning home to Ottawa, Soulaine created a website for the school in the hope of raising awareness about their needs (paipirprimary.com) and Michelle came up with the idea of setting up a computer lab at the school as children who are computer literate are more likely to go on to higher education. Michelle then persuaded her husband Malcolm, an IT expert, to join her in this project. With the help of Concordia's Community, Engagement, Education and Development program, they managed to secure and bring 21 donated laptops to Paipir in May 2015. Paipir Primary school is incredibly proud to be the only publicly funded primary school in Northern Uganda to have a computer lab. In May, Malcolm set up the computer lab and taught the teachers computer basics. Michelle went back in November and brought five more computers. The teachers at Paipir have started to teach computer skills to the children during the day and teach community members at night.
Unfortunately, electrical power is very unreliable in this part of the country, the school can have black outs lasting days or weeks. In the fall of 2015 a transformer failed and they were without electricity for three months. It has become imperative to find an alternate source of power for the computers and the school. To this end we are hoping to raise $10000 to have solar panels installed at the school. This amount should be sufficient for their current needs and also for any expected expansion. In July 2016, we will be bringing 14 more donated computers. We would appreciate one-time or monthly donations very much.